Run More, Eat More.
Utah's ONLY Thanksgiving Half Marathon race! Turkey trot your way to Thanksgiving Point in Lehi, Utah to enjoy one of our amazing races! This year you can choose between the beautiful Half Marathon, the 10K, the 5K, and the Kid's Run. This Thanksgiving 2020, make the Thankful 13 a part of your family tradition.
We are extremely thankful for your support this year! We feel fortunate that we have been able to work with cities and health departments to hold many of our events.  We work extremely hard to create magic while also creating a healthy and safe environment for our participants.  We thank our runners for helping us maintain these health requirements, for trusting us, and for participating in these events.
Race participants receive a long-sleeve running shirt, race bag, and a beautiful finisher medal. We have Thanksgiving family fun including music, and hot chocolate. REGISTER
For health and safety reasons we have also create a Virtual Thankful 13 Option. LEARN MORE >
Start Time
Marathon:
Half: 7:45 am
10K: 8:00 am
5K: 8:15 am
Kid's Run: 10:30 am
Current Pricing
Marathon: Free
Half: $69.95
10K: $26.95
5K: $25.95
Kid's Run: $9.95
Next price increase:
100 days
Pricing Schedule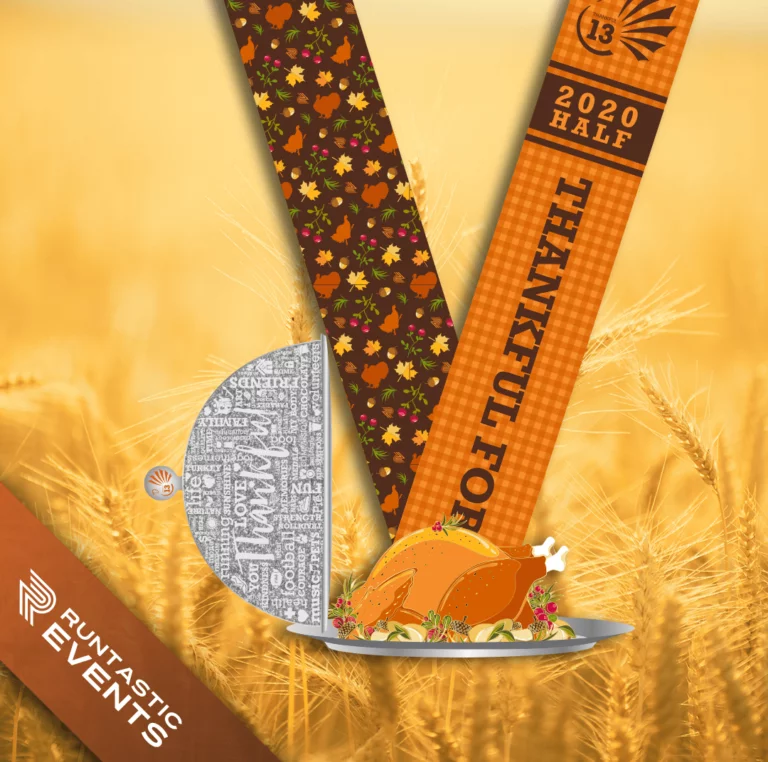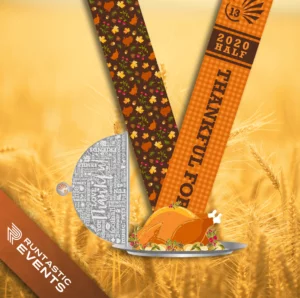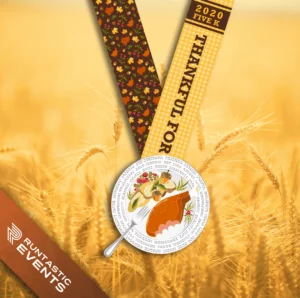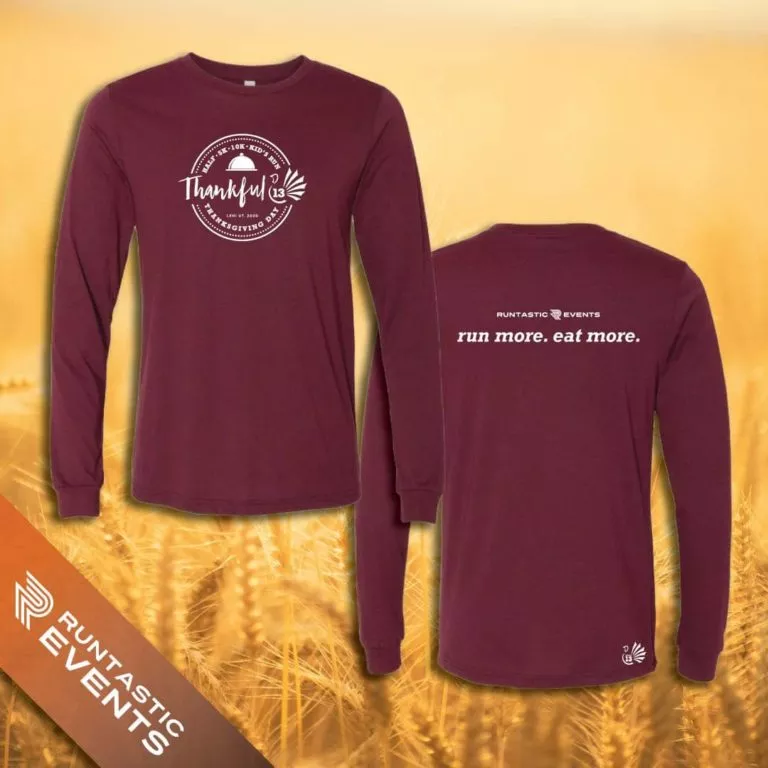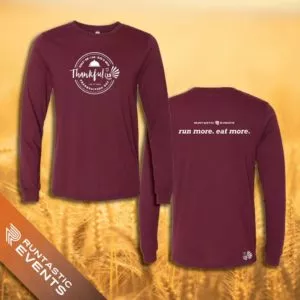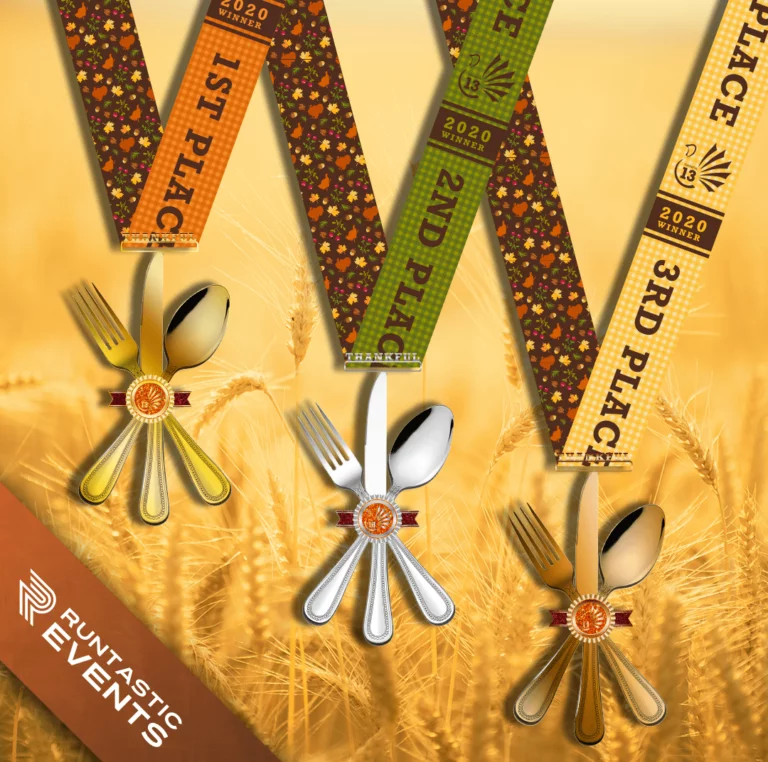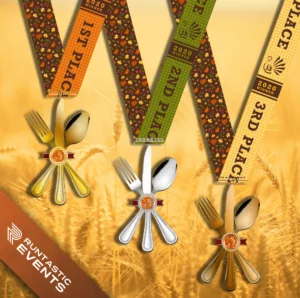 A friendly reminder that online registration closes on Wednesday, November 25th at 5 p.m.
Sign up online or at the Expo. There is NO day of registration for the Half Marathon, 10K, and 5K. There is day of registration for the Kid's Half Mile Run.
Visit the Blue Runtastic Info tent from 9:30 a.m. to 10:00 a.m. to register a child (ages 1-12) for the Kid's Race (space permitting).
Facebook Discount
During registration make sure to use the Facebook share option for $3 off registration.
Friends & Family Discount
You will receive an automatic 15% off when you register 4 or more people at the same time.
The expo this year will require social distancing and has been set up accordingly.  The Entrance and Exit will be at different locations so people won't have to pass by others.
The expo will be reduced to a few choice vendors.  You will receive an email with your bib number so that you can come straight to bib pick up and receive your packet.  We are implementing ways to reduce lines and controlling the occupancy of the building to create a safe atmosphere. Facemasks will be required to wear at the expo, before the start, and after the finish.  We will have plenty of disposable masks available at those locations for you to use.
Please pick up your packet, bib number, shirt, and race swag at the expo/packet pickup the day before the race. You must have a photo ID to pick up your packet. You may pick up someone else's packet if you have a copy of their photo ID.
Packets will NOT be available to pick up the morning of the race. If you are for some reason unable to pick up your packet from the expo please send us an email at
[email protected]
.
No day- of registrations.
Table of Contents
Before the Race
Swag
Rules of Competition (refunds & transfers)
Safety & Accommodations
Travel & Transportation (parking & traffic)
Timing
Start Times
Course Maps
Trilogize
Runtastic Race Series
More information on these topics in the runner's guide.
Aid Stations
There are many Aid Stations throughout the course that are supported during the following times:
5K
10K
Half

Aid Station @ mile 1, mile 3.2, mile 5.4, mile 7.2, mile 8.8, and mile 10.7
Water, Powerade, porta-potties and a first aid kit will be available at each Aid station. Look for Powerade on the first table and water on the second. Energy Gels will be available at the start and at mile 8.7.
Race Amenities
Photos
Flo-Foto is by far one of the best in the event photography industry! Look for photographers at the start line, along the course, finish line, photo backdrops in the runner's corral, and awards stage. We are providing your social media pictures for free.
Social Media size photo download: FREE
 High Resolution photo download: $1.99
Massage & Chiro
A complimentary post-race sports massage and chiropractic analysis will be available from 9:00 a.m. to 11:30 on a first come first serve basis in the finish area. Massages are provided by licensed massage therapists.
Timing & Bibs
The Thankful 13 Half Marathon, 10K, 5K, and Kid'sRace will be professionally timed. The chips will be attached to the back of your bib number. Please don't wrinkle or stuff the bib in your pocket.
The first 3 places, male and female, will be determined by gun time (regular timing). All other awards will be determined by using Chip Time.
Gun Time is the time elapsed from the sound of the gun to the finish line.
Chip Time is the real time from when the runner crosses the starting line to crossing the finish line.
Results are available in the following ways:
On Screen at the Results Trailer
Personal Printed Result at the Results Trailer
Online at Results
Note: If you alter or damage your chip your time may not be read correctly. Wear your bib on the outermost layer of clothing.
Spectator Area
Feel free to cheer on your friends and family at the following locations:
10K, 5K, & Kid's Race:
Half Marathon: 
Mile 2.4 – Thanksgiving Point Trail Head Park off of Cottonwood Dr, Lehi
Mile 5.2 – 300 N & Willow Haven Ave
Mile 6.5 – Riverway & Waterway Rd.
Mile 8.8 – Willow Park & Jordan River Pkwy
Mile 11.7 – Thanksgiving Point Trail Head Park off of Cottonwood Dr, Lehi
These viewing areas allow you to drive and park without interfering with the runners or course. Do not park along the runner's path.
The finish festivities have been reduced greatly this year. You'll still get the great finish line and amazing finisher medal but will need to minimize your interactions and quickly move from the finish area.
At the finish line, you will receive your finish award and a prepackaged goodie bag. Our photographers will be out on the course and at the finish line but will not be taking pictures at our usual post-race photo backdrop. The results trailer will be available for your preliminary results printout. There won't be an in-person awards ceremony this year. Age group awards will be based on chip times and winners will have their medal mailed out following the race.
Music
Results
Awards
Face in Hole Cartoon Signs
Flo- Foto Photography
Overall
The top three finishers, male and female of the Half Marathon, 10K, and 5K will receive a free entry into the 2021 Thankful 13 in their respective categories as well as the following prizes:
1st: TBD
2nd: TBD
3rd: TBD
No Award Ceremonies
Everything will be mailed to you.
To help our runners achieve their goals we have enlisted the RYR Pacers to pace the half marathon. Due to health restrictions if you plan to run with a pacer, be mindful of social distancing and the other runners around you. Pacers will be starting every minute after the Elite Start. 
At the starting line each pacer will be holding a sign with their pace time on it. The faster the pace the closer to the starting line they will be. Please find your pacer and line up behind them.
This will help all runners be around other runners with similar speeds and keep runners from getting stuck behind slower runners or getting bumped or run over by faster runners.
The 3 hr 15 min pacers will be the last runners on half course. Please maintain their speed to remain on the course.
1 hr 40 min
1 hr 45 min
1 hr 50 min
1 hr 55 min
2 hr 0 min
2 hr 10 min
2 hr 20 min
2 hr 30 min
2 hr 40 min
3 hr 15 min (sweeper)
The Half Marathon Course is supported until 11:00 a.m. (3 hours 15 Minutes). Runners must be able to average a pace of 15 minutes per mile to participate. If you are unable to finish the course in the allotted time we ask that you participate in the 5K instead.