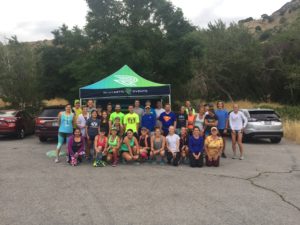 July 13, 2019
What a beautiful morning! We met at the bottom of AF Canyon at 6:45 am and carpooled up to Tibble Fork Reservoir. Teaming up with Runner's Corner and UtahRun we had almost 40 people show up! Everyone had someone to run with on the way down. It was already warm that morning, but since it was slightly overcast (i even felt a couple of raindrops!) the temperature was perfect.
This is one of my favorite runs to do on a Saturday like this, especially with the Runtastic Timp Half coming up in just a couple weeks. Starting at Tibble Fork we got to run the first 7.5 miles of the Timp Half course. A gradual downhill, American Fork canyon is perfect for downhill training. In my opinion it is just steep enough to run fast without feeling like you're going to explode your knees. I like to do a run like this at least once, but preferably four or five times before doing a downhill half. That way my body can get used to the increased stress placed on the legs when running downhill, and I can work on my downhill running form.
At the bottom of the canyon we had our Runtastic Events tent with Power-aid, buy one get one free coupons to CoreLife Eatery, and a discount code to the Timp Half and Nebo Half. Most everyone stuck around and chatted for awhile, some found new training partners, and we all enjoyed a beautiful morning with friends.
Jon Cahoon, Runtastic Events