Please don't run so close to me!
Introducing the historic Conquer COVID-19 Virtual Run. Part of your healthy, immune-boosting, self-quarantining, social distancing, sanity saving pandemic routine.  #IRunResponsibly
You can run, jog, or walk anytime and anywhere (your street preferred).  Everyone is welcome! We are all in this together (responsibly separated by at least 6').
ANYWHERE, ANYTIME
*Your Street Preferred
Registration Ends: June 30, 2020
Registration is limited
MARATHON – 26.2 miles
HALF MARATHON – 13.1 miles
10K – 6.2 miles
5K – 3.1 miles
All Race Distances – $28
Race Shirt (Optional) – $10
1. Register to run the virtual marathon, half, 10K, or 5K.
2. Run or walk responsibly! You can run indoors, outdoors, or even on your treadmill.
3. Don't forget to report your time to be added to our Conquer COVID-19 Virtual Results. The results are just for fun but see where you rank. Submit your Results >
4. Registration ends June 30, 2020 and spots are limited!
5. Don't forget to show off your achievement by sharing your photos and tagging us @runtasticevents and using #conquercovid on social media.
Your Race Bib
Print your race bib! You will be able to access them in two ways. One way is through your Profile under the Upcoming Events Tab through the View Pre-Race Bib link.
The second way is via the Pre-Race Bib tab on your Registration Management page by logging onto RunSignup, navigating to Profile > Upcoming Events > Manage Registration > Pre-Race Bib.
Your Race Results
For tracking your distance and time, you can use whatever app or system that works best for you. All we need is the finish time. Your confirmation email will also have a link you can go after you complete your race and can upload your results. Make sure you are logged into RunSignUp to submit your race results. Submit your results: Here
The reporting deadline is July 15, 2020
Your BLING & SWAG
Your Finisher Medal, Shirt (Optional), Decal, Temporary Tattoo will be mailed out to you.
IMPORTANT: We have sold out of our first batch of medals. More medals have been ordered, but will be sent out according to when you initially registered. For those registering after May 10, 2020 your medal and shirt will be arriving in June.
NOTE: because this race was not planned, we are working to get the medals manufactured as quickly as possible. They are tracking to be done at the manufacturer and we're doing all we can to get them here faster. Essential items are getting priority when being shipped, so that might cause a delay. Thanks for your patience.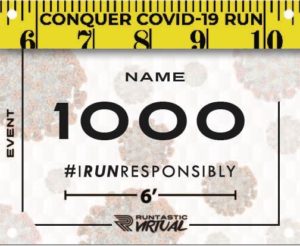 The Cause
Benefitting local running stores across the country. Support Local Businesses.
Running is important to the community. Running keeps us healthy and happy.  We love local running stores because of their passion, their expertise for running, and their connection to the community. Their employees work hard for each customer, making sure runners get the proper gear to stay injury-free and to achieve their goals. We appreciate the special benefit they provide to their communities. The economy is flipped on its head and now more than ever local running stores need our support. This virtual race is not only about conquering the virus by staying healthy but also about our chance to give back.
Runtastic Virtual is giving $5 of every registration to local running stores across the country.
When you register you can choose your local running store to receive this donation.
Running Store Submissions Have Closed
You'll appreciate all the details in this historic oversized medal. 
The front of the medal is a huge roll of toilet paper (sorry, it won't help with the shortage) with a highly detailed covid-19 virus spinner in the center.  
The back of the medal is chalked full of reminders of how the pandemic has affected our lives;

face masks, hand sanitizer, stock market losses, social distancing, and home isolation.  The back of the spinner features

a

sun with two runners practicing virus safety and keeping their social distance.

Together, exercise and sunlight provide a boost to your immune system, helping you stay healthy and safe (just like handwashing, this will always be the case).

  We felt it was important to have the virus on one side and the things we can do to conquer the virus on the other!
The lanyard sports a realistic virus on one side and a measuring tape on the other so that in a pinch you can use it to make sure you are practicing adequate social distancing.