Let Freedom Run
Celebrate our country's independence as we run to remember the historic events and sacrifices that have helped build the foundation of our freedoms and security of this great nation.
On July 4th 1776, our founding fathers signed the declaration of Independence. Which declares, "We hold these truths to be self-evident, that all men are created equal, that they are endowed by their Creator with certain unalienable Rights, that among these are Life, Liberty and the pursuit of Happiness."
---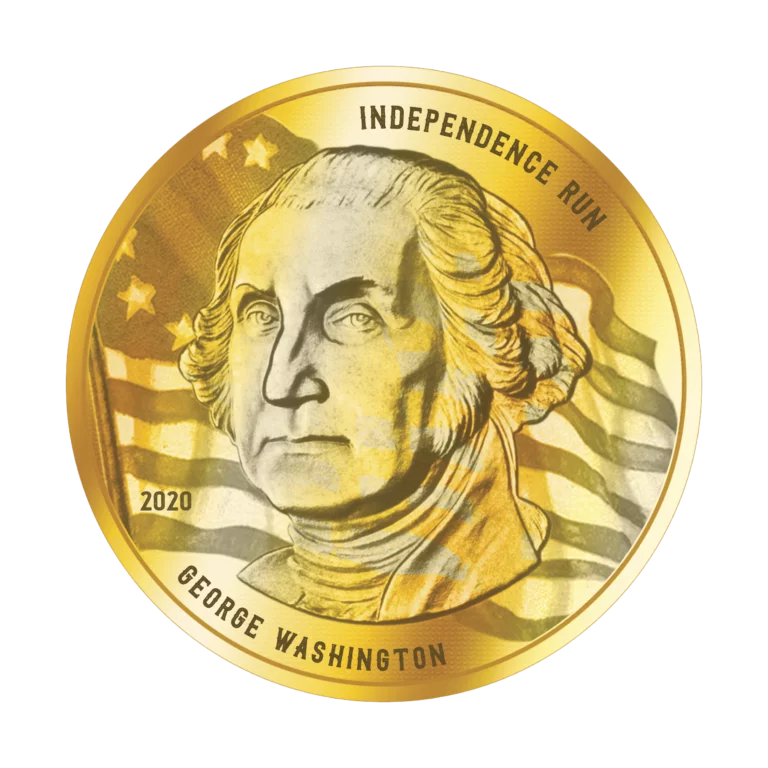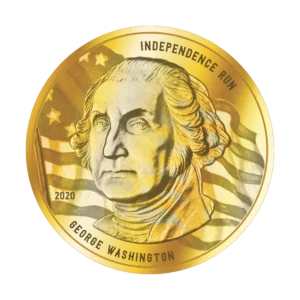 Each year the Independence Run focuses on one of the great men or women who help found our country's bold and inspired heritage. This year (2020) we commemorate George Washington and his unique and indispensable role in obtaining our independence. Though he did not sign the Declaration of Independence he played a critical role in leading the fight for our freedoms. From his crossing of the Delaware river in 1776 to becoming the first President of the United States his role was crucial as one of our founding fathers.
Let Freedom Run this 4th of July with the Independence Run.
Date & Location
March 31, 2021
Virtual Run!
Run Independently from your home or far away. We run as one nation.
Distances
Marathon: 26.2 Miles
Half: 13.1 Miles
10K: 6.2 Miles
5K: 3.1 Miles
Mile Run: 1 Mile
Current Pricing
Time left to register:
Only 6 hours
1. Register to run the virtual marathon, half, 10K, 5K, or Mile Run.
2. Run or walk your chosen distance independently! You can run indoors, outdoors, or on your treadmill.
3. Don't forget to report your time to be added to our Independence Run Results. The results are just for fun but see where you rank. Submit your Results >
4. Don't forget to show off your achievement by sharing your photos and tagging us @runtasticevents and using #independencerun on social media.
Your Race Bib
Print your digital race bib! Sign your declaration race bib with your John Hancock and get ready to run for life, liberty, and the pursuit of happiness.
You will be able to access them in two ways. One way is through your Profile under the Upcoming Events Tab through the View Pre-Race Bib link.
The second way is via the Pre-Race Bib tab on your Registration Management page by logging onto RunSignup, navigating to Profile > Upcoming Events > Manage Registration > Pre-Race Bib.
Your Race Results
For tracking your distance and time, you can use whatever app or system that works best for you. All we need is the finish time. Your confirmation email will have a link to register your race results.
Submit your results: Here
Your Bling & SWAG
Your Finisher Medal, Shirt (Optional), & Decal will be mailed out to you.
George Washington Coin
On this year's medal we depict our first President of the United States, George Washington. He was the man who led the Continental Army to victory in the Revolutionary War. He paved the way for what would be the standard role of the president moving forward.
The back of the coin depicts the Crossing of the Delaware River on Christmas Eve, 1776. The next day George Washington and his men executed a surprise attack and won the Battle of Trenton. Though this was small victory it led to an even bigger victory in the Revolutionary War. Through his heroic acts of courage and leadership, we became a free nation.