TWO CANYON CHALLENGE MEDAL DISPLAY
Reintroducing the 2 Canyon Challenge Medal Display! In 2011, these unique aspen medal holders were awarded to all those who ran the very first Timp Half and the Mt. Nebo Half. In celebration of the 10th Anniversary, we are bringing them back!
Run the Timpanogos Half and the Mt.Nebo Marathon or Half Marathon to get this beautiful wood medal display. Celebrate the Ten Year Anniversary of Runtastic Events with us this August.
Important Information
There is no additional cost to qualify for the 2 Canyon Challenge Medal Display. To qualify for the Medal Display your run must be completed at one time. It does not count in separate increments. Your regular registration and chip time must be recorded to receive the Medal Display. The chips will be attached to the back of your bib number. Please don't wrinkle or stuff the bib in your pocket. If you alter or damage your chip your time may not be read correctly. Wear your bib on the outermost layer of clothing. 
Our database will record your official results and we can look up your race history when you come to claim your award. After you cross the finish line of your third race please visit the blue Runtastic Info tent in the finish area to claim your 2 Canyon Challenge Medal Display.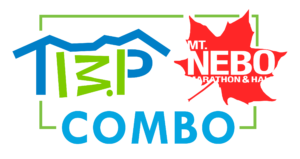 Looking for a Great Deal?
Two Canyons, Ten Years! 2020 marks the 10 year anniversary for both the Timp Half and the Nebo Half. There are two categories available for this race package. You can choose the Timp Half and Mt. Nebo Half Combo or the Timp Half and Mt. Nebo Marathon.
This package is Non Refundable, Non Transferable to another person. Transfer categories and deferrals to 2021 are allowed with fees until July 25th 2020. You can however update your race information throughout the year through participant self-management portal.