Mt. Nebo Marathon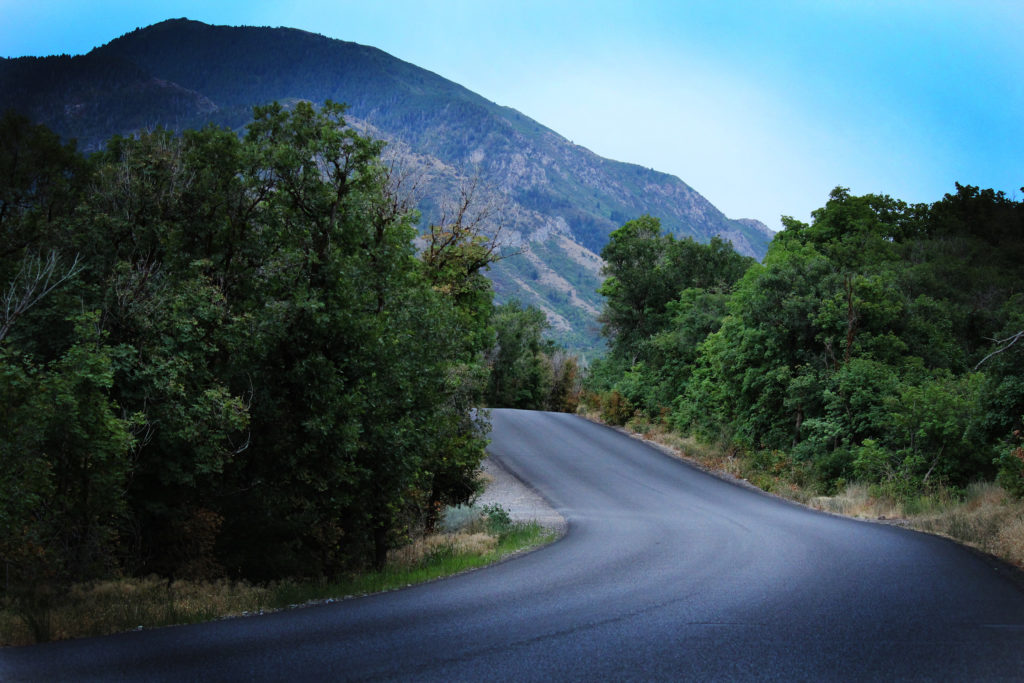 The Marathon
The Mt Nebo Marathon is a true canyon marathon with 25 miles of the race in Payson Canyon! Starting at the top of the Mt. Nebo Loop and running down Payson Canyon runner's are greeted with picturesque views and the hope of a huge PR. You won't find a more beautiful race!
Elevation/Grade
Get them while you're fresh? With a slight uphill start you will experience a few hills during the first half of the course with a total gain of 750 ft. Scared? Don't be! All of the gain is on tame hills in the first 10 miles, and the last 16 miles are completely down hill, which makes this marathon course super fast.
Start: 9,272 ft
Finish: 4,767 ft
Net: -4,505 ft
Total Elevation Gain: 754 ft
The first half of the race isn't quite as steep either with only 1,200 ft of drop. This keeps your legs from getting beat up too early in the race and ensures you will be fresh and ready for a quick second half. Who doesn't like to negative split?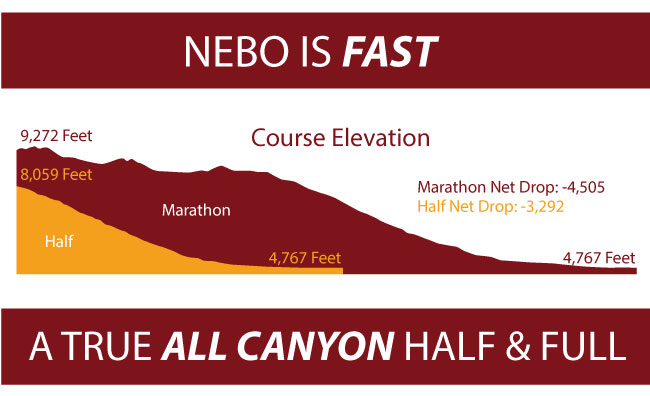 Hills
There are 3 main hills in the first half of the race, and each will be marked with a sign telling you which hill it is and how much it climbs: Two Sisters, Pone, Taboots, and Pawah Hill.
Two Sisters
Aptly named, Two Sisters climbs up two consecutive hills Pone and Tabboots with only a slight reprieve between them.
Pone Hill, Mile 3.9
Pone (skunk)
1 mile long
212 ft of gain
4% grade
Tabboots Hill, Mile 5.2
About 1/4 mile, this hill climbs up and to the right. It's not long, so if you made it up the last hills this is cake.
Tabboots (rabbit)
0.21 miles long
73 ft of gain
6.6% grade
Pawah Hill, Mile 8.8
Shortly after returning to the road from the out and back section runners meet Pawah Hill.
Pawah (Eagle)
0.67 miles long
205 ft of gain
5.8% grade
As far as marathon hills go these are tame, and are nothing compared to the net 4,500+ ft of drop experience over the course. Get ready to rock this course, this is what you trained for!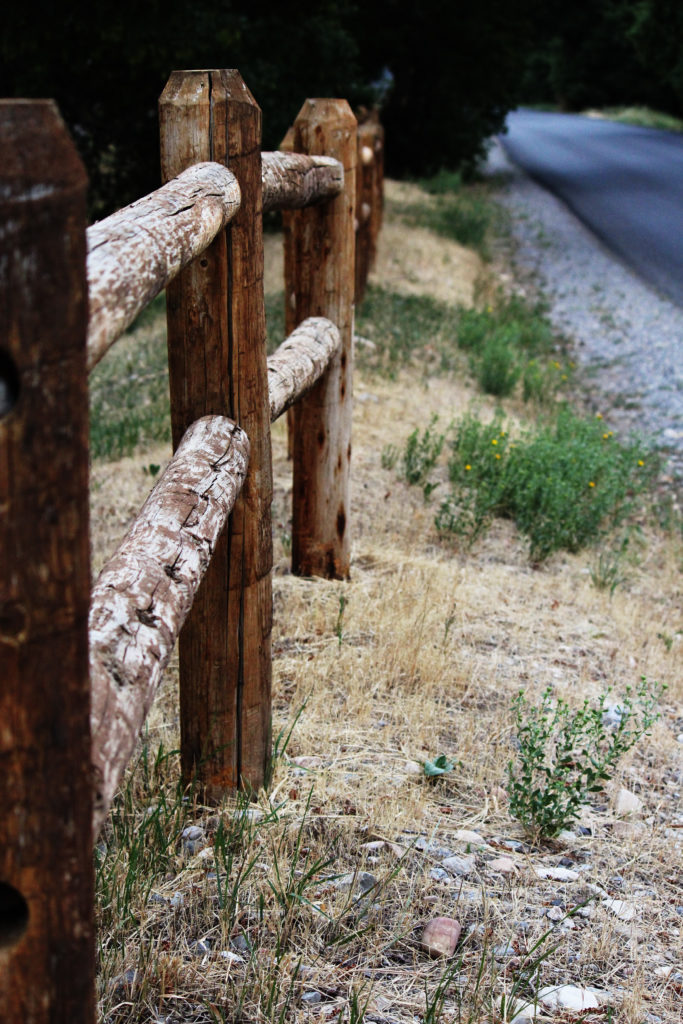 Aid Stations
Starting at mile 3 there is an aid station every two miles for the entire course. We provide the almost excessive amount of aid stations so there is no need to carry any extra water with you. If you aren't one to pack your own gels we will also have Clif Shot Gels at three of our aid stations to keep you fueled.
Mile 3 – Water, Powerade, First Aid, Restroom
Mile 5.1 – Water, Powerade, First Aid, Restroom
Mile 6.4 – Water, Powerade, First Aid, Clif Shot Gel, Restroom
Mile 8.5 – Water, Powerade, First Aid, Clif Shot Gel, Restroom
Mile 10.9 – Water, Powerade, First Aid, Oranges, Restroom
Mile 13– Water, Powerade, First Aid, Restroom
Mile 14.8– Water, Powerade, First Aid, Restroom
Mile 17.3– Water, Powerade, First Aid, Restroom
Mile 19.4– Water, Powerade, First Aid, Clif Shot Gel, Restroom
Mile 20.9– Water, Powerade, First Aid, Oranges, Restroom
Mile 23– Water, Powerade, First Aid, Restroom
Mile 25– Water, Powerade, First Aid, Restroom
The course is supported for 6 hours.  From 6:00 a.m. to 12:00 p.m.  Police, cones, Porta Potties, and aid stations will not be available after 12:00 p.m. If you can't finish before that cut off make sure to plan accordingly. Runtastic Events also reserves the right to pull racers from the course if it needs to.
Directions
I don't know about you, but I have gotten lost on courses before. Maybe I was too tired and wasn't looking for a turn sign, or the race was poorly marked, but either way, here at Runtastic Events we take pride in having simple, easy to follow race courses that are clearly marked. The Mt. Nebo Marathon is, knock on wood, impossible to get lost on. The Starting line is at the top of the Nebo Loop Road. Runner's simply run down the road heading North for the first 6.4 miles. At mile 6.4 the course takes a left turn onto the out-and-back section, about a mile down the road runner's turn around at a clearly marked turn around point and head back the way they came. Back on the Nebo Loop Road runners continue running down the canyon. The next turn? Mile 25.7 runners turn onto 300 S for the last half mile before they take an obvious right turn into the finish line at Payson Memorial Park.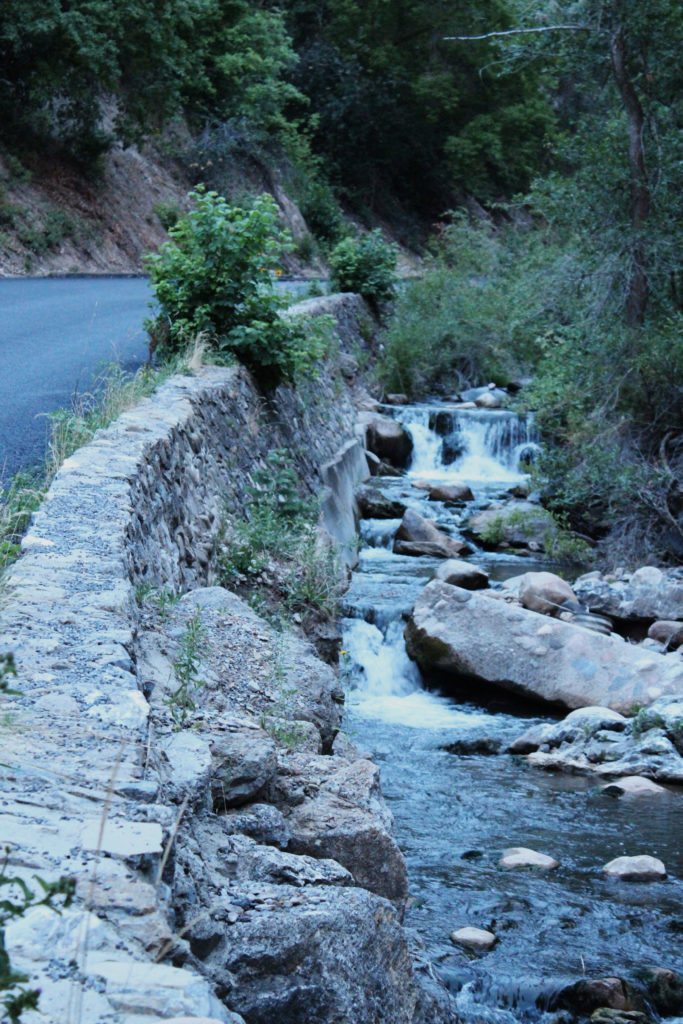 Certification
USATF Certification Number: UT17006TJD.
Why do we certify our courses? USATF puts it best on their website "The certification program is very important to the average road racer, as well as those of exceptional speed. Most runners like to compare performances run on different courses, and such comparisons are difficult if course distances are not reliable. No one can truly establish a personal best if the course distance is not accurate." Courses also have to be certified "for any road running performance to be accepted as a record or be nationally ranked". (usatf.org)
We want you to do your best, and for your race to be as accurate as possible. Running certified courses gives you that piece of mind.
Information
Busses: All runners must take the bus to the start, no drop offs. You will find runner signs and volunteers directing you to the correct parking. Bus pick-up will be on the south side of Memorial Park. Marathon bus loading is between 3:45 and 4:15 a.m. We ask that you get there at the latest 4:00 a.m. as we will NOT have any other buses available past 4:15 a.m. – do not be late (PLEASE).
Start Time: The Marathon starts at 6:00 a.m. towards the top of the Nebo Loop. We will start this on time, so please make sure you are on time for the bus loading
Strollers: Strollers are NOT allowed on the Marathon course, they are however allowed on the 5K Course. Strollers are not allowed in the half marathon unless it is an assisted athlete with a complete permit. Our 5k and 1/2 mile races do allow strollers.
Visit the race website for complete details of the race, expo, packet pick-up, registration, and the runner's guide. We look forward to seeing you on the race course!