Date & Location
May 21, 2022
Marathon Start
Bogus Basin Resort
Half Marathon Start
Bogus Basin Road
Start Time
Marathon: 6:00 am
Half: 6:30 am
Current Pricing
Marathon: $94.95
Half: $84.95
Next price increase:
14 days
RUNTASTIC Bogus Marathon & Half
The beautiful city of Boise is known for Trees, finger steaks, trick football plays, and the Bogus Marathon & Half. Although Bogus Basin gets its name from the gold miners who mixed gold dust with lead, there is nothing phony about the PR's on this course.
This fast and stunningly beautiful course showcases the beauties of Boise, from the panoramic mountain vistas along Bogus Basin Road to the lush waters of the Boise River. Experience springtime in Boise on May 21, 2022.
Boise has a new rush for gold and for those with the fever, the finish awaits with glittering precious medals.
After a crazy year, your running therapy is Bogus.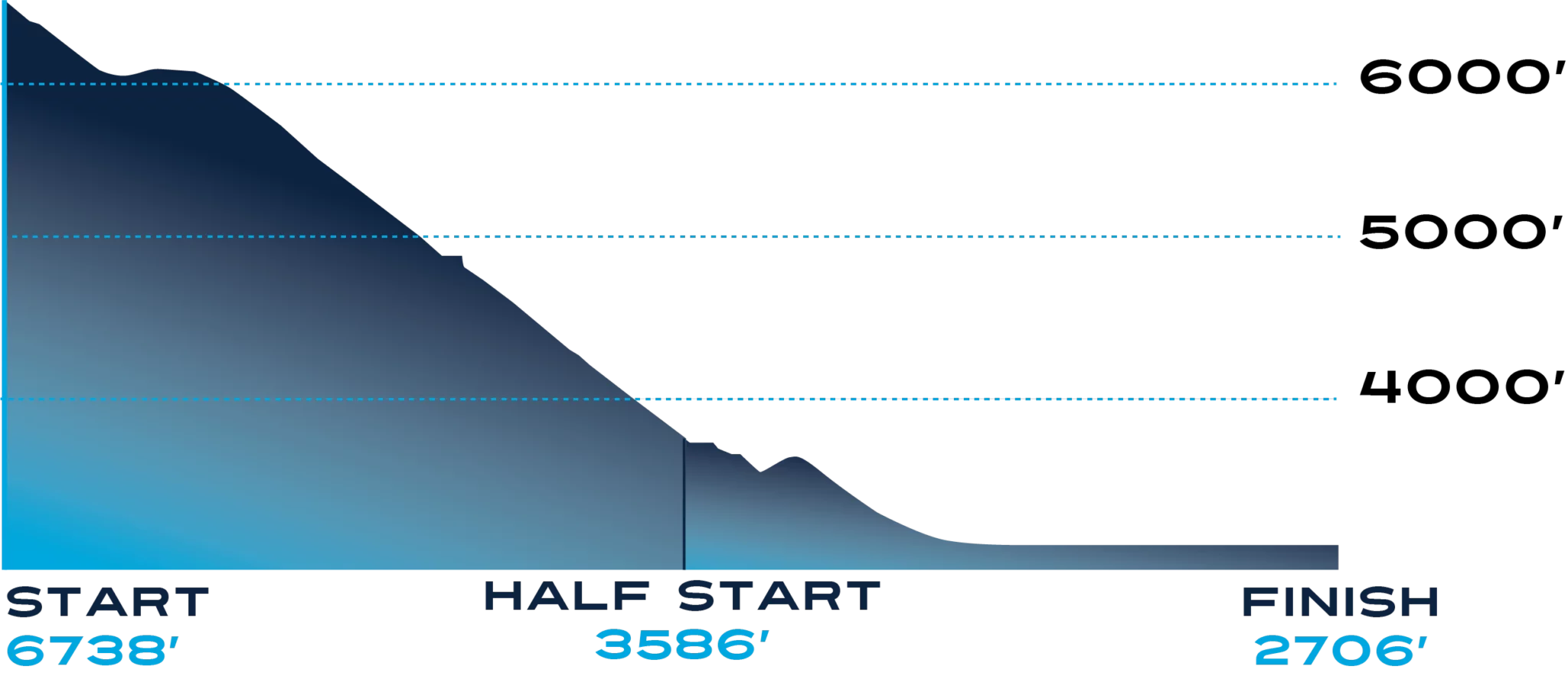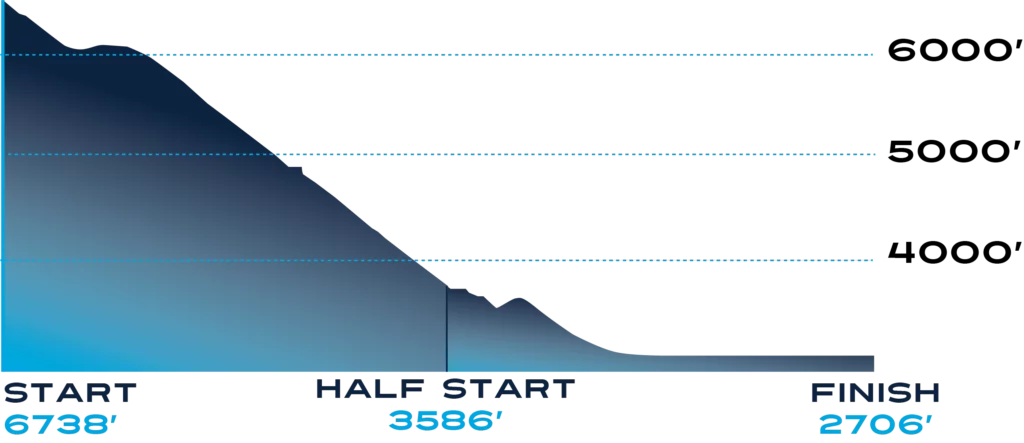 Where: TBD
When: Friday May 20 11 a.m. – 6 p.m.
Please pick up your packet, bib number, shirt, and race swag at the Packet Pickup the day before the race. You must have a photo ID to pick up your packet. You may pick up someone else's packet if you have a copy of their photo ID.
Packets will be available to pick up the morning of the race for $5.
Parking:
Parking will be on the North side of Boise River in the Capital Matric, Arid Club, and Astoriquia Justin parking lots, and at Julia Davis Park, (see map below) do not park adjacent to the buildings or in no parking areas. Vehicles parked in areas designated no parking may be subject to towing.
All Half Marathon and Marathon runners are required to ride buses to the start with the exception of Participants With Special Needs who receive specific permission. Parking or being dropped off at the start line is prohibited.
Bus Loading
Marathon
Bus loading will be just north of the Boise Rose Garden at Julia Davis Park (700 S Capitol Blvd, Boise, ID 83702). Please arrive early. Buses will depart for Bogus Resort from 4:00 a.m. – 4:30 a.m. There will be no late transportation.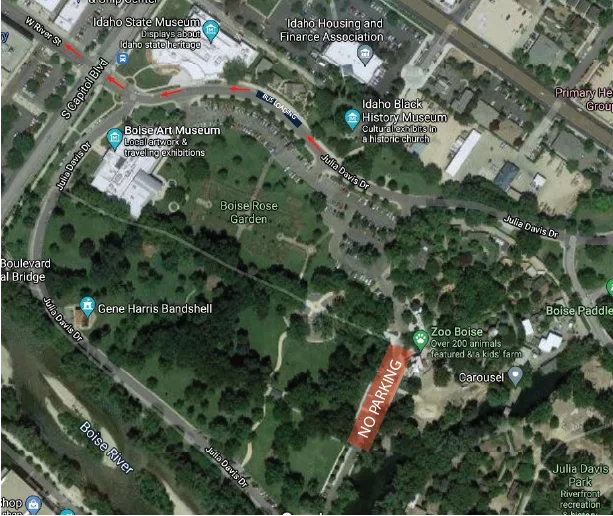 Half Marathon 
Bus pick-up will be in front of the Astorquia Justin building, 1087 W River St Suite 300, Boise, ID 83702. Please arrive early. Buses will depart for Bogus Basin Rd. from 4:30 a.m. to 5:20 a.m. There will be no late transportation.
You must be to bus loading by the designated time to guarantee transportation to the start. If you miss the bus you forfeit your registration and ability to run the race.  We want you to enjoy the race so please be prompt.
All half and full marathon runners must ride the buses to the starting area. Your bib is required to get on a bus. Please double check you are loading into the correct bus.
We know it's early! Please make every effort to arrive early with time to spare.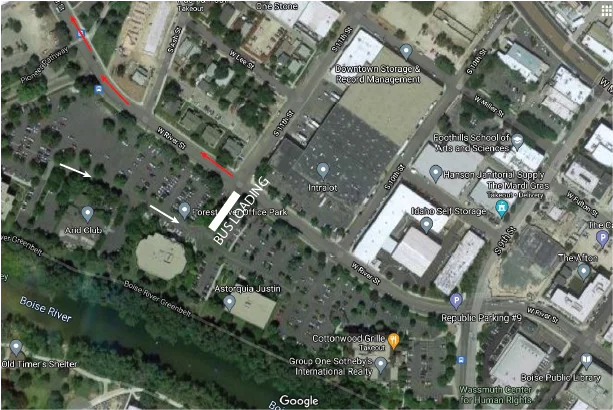 Marathon

Half Marathon

mile 3

mile 5

mile 7

mile 9

mile 11

mile 13

mile 15

mile 2

mile 17

mile 4

mile 19

mile 6

mile 21

mile 8

mile 23

mile 10

mile 25

mile

12
Water, powerade, porta-potties and a first aid kit will be available at each station. Look for Powerade on the first table and water on the second. Energy Gels will be available at the start and mile 7 & 19.
The course is supported for 6 hours, from 6:00 a.m. to 12:00 p.m. After 12:00pm, Police, cones, porta-potties, and aid stations will not be available. Please plan and prepare accordingly.
RACE START
Marathon
Starts at 6:00 a.m. at Bogus Basin Resort. We will start the race on time, so please make sure you are on time for the bus loading.
Music
Energy Gels*
Water
Powerade
Porta-Potties
Half Marathon
Starts at 6:30 a.m. 5 miles up Bogus Basin Road. We will start the race on time, so please make sure you are on time for the bus loading.
BAG DROP
A bag drop is provided at the start of the Marathon and Half Marathon. Please use the bag you receive at packet pickup to put any items in that you have at the start and won't be running with. Using the zip tie provided in your bag, attach the tear off tag on your bib to the bag. There is also a place designated on your bag to write you bib number in case the bib tag gets pulled off. Bags will be transported down to the finish line. You can retrieve it after you finish at the finish line area.
RACE AMENITIES
PHOTOS
Look for the photographers along the course and at the finish line. We will provide downloadable social media pictures for free after the race.
TIMING & BIBS
Runtastic BOGUS Marathon, and half marathon, will be professionally timed. The chips will be attached to the back of your bib number. Please don't wrinkle or stuff the bib in your pocket.
The first 3 places, male and female, will be determined by gun time (regular timing). All other awards will be determined by using Chip Time.
Gun Time is the time elapsed from the sound of the gun to the finish line.
Chip Time is the real time from when the runner crosses the starting line to crossing the finish line.
Results are available in the following ways:
On Screen at the Results Trailer
Personal Printed Result at the Results Trailer
Texted results (you must approve text notifications through your Run Sign Up Profile.
Online at Results
Note: If you alter or damage your chip your time may not be read correctly. Wear your bib on the outermost layer of clothing.
CELEBRATION AREA
CELEBRATION AREA
The finish line is at Julia Davis Park.
Address: 700 S Capitol Blvd, Boise, ID 83702
After finishing you are welcomed into the runners corral where you will receive water, food and more! Food is only available for Bogus participants. When you join us at our fun finish line enjoy:
Food
Water & Powerade
Music
Awards
Photography
Porta Potties
Bag Pick-up
Awesome Finisher Medals